Shopping Cart
Your Cart is Empty
There was an error with PayPal
Click here to try again
Thank you for your business!
You should be receiving an order confirmation from Paypal shortly.
Exit Shopping Cart
| | |
| --- | --- |
| Posted on October 30, 2020 at 6:05 AM | |
Chocolate Mousse Cake topped with Ferreo Rocher and hazelnuts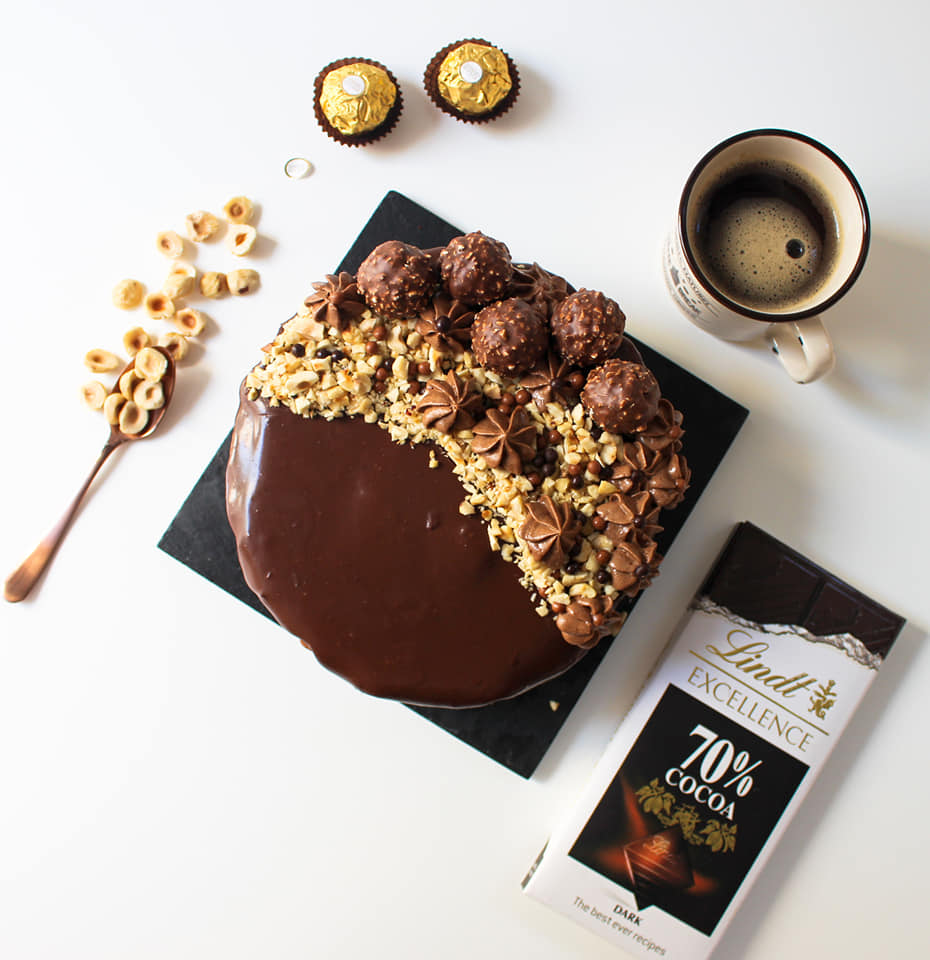 The first thing is we prepare the chocolate pastry cream and then we let cool down. 
After that we make the fondant chocolate cake. we set that aside and let cool as well. 
Then we finish completing the mousse or chocolate filling.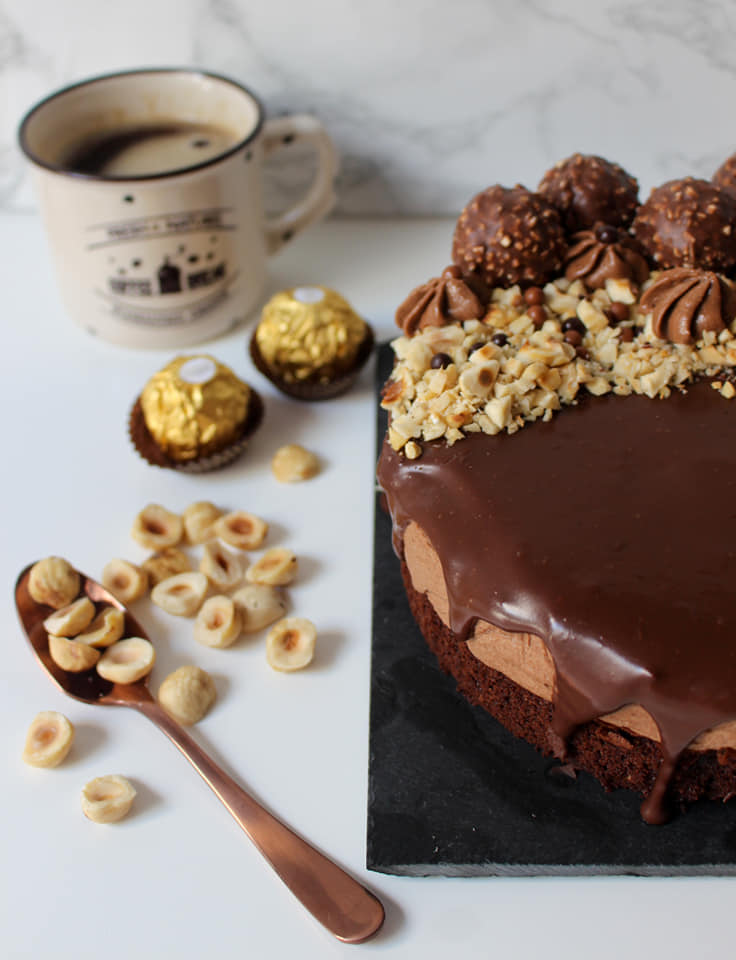 Let's start:
For the chocolate pastry cream, you will need
Ingredients:
2 cups milk
2/3 cup sugar
1/4 cup corn-starch
1 tbsp cocoa powder
2 eggs
120g semisweet chocolate
1 tsp vanilla extract
1/2 tsp salt
3/4 cup butter, room temperature
Directions:
Place milk in a medium saucepan and bring to a boil.
 Meanwhile whisk the eggs with sugar and salt until well combined.
Add cocoa powder and corn-starch and mix to combine.
Gradually add milk into the egg mixture and return to heat.
Cook stirring constantly until it boils and thickens. Remove from heat and add chocolate and stir until completely melted.
Pour the cream into a clean bowl, cover with plastic wrap, pressing it directly onto the surface of the pastry cream to prevent forming a skin on the surface. Let cool to room temperature.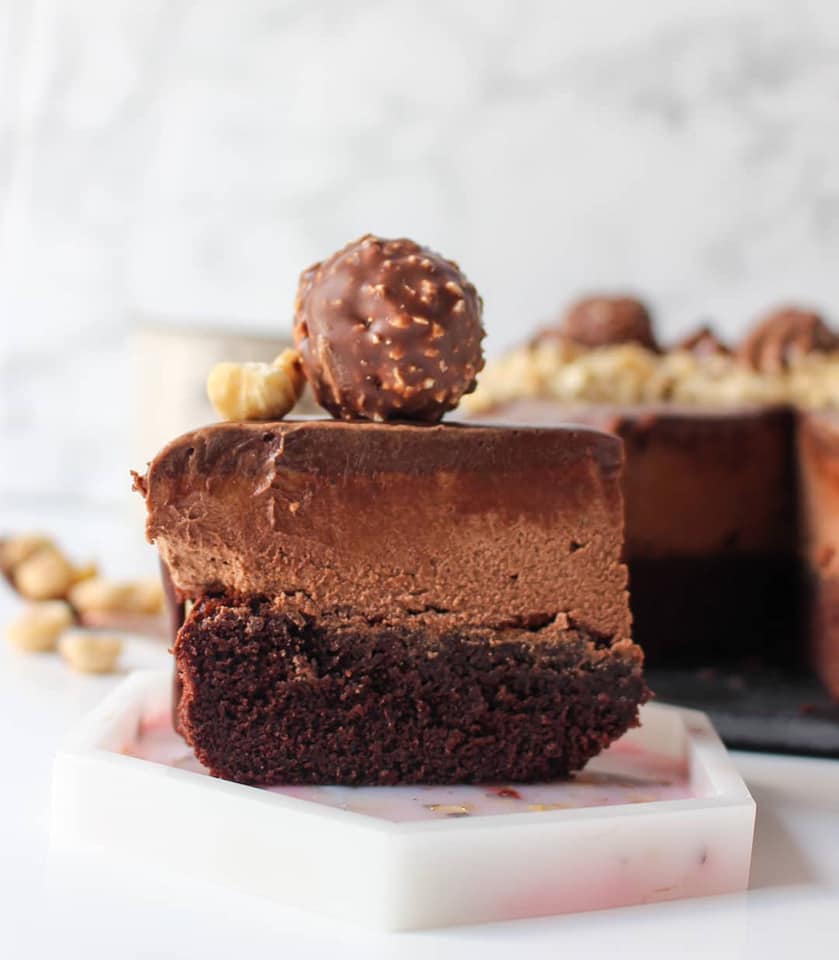 For the chocolate fondant cake, you will need
Ingredient:
 2 cups sugar
 1 ¾ cups flour
 ¾ cup cocoa powder
 1 ½ teaspoons baking powder
 1 ½ teaspoons baking soda
 1 teaspoon salt
 2 eggs
 1 cup milk
 ½ cup vegetable oil or butter
2 teaspoons vanilla extract
1 cup boiling water
Directions:
Preheat oven to 350 degrees F (175 degrees C).
Grease and flour two pans.
In a large bowl, stir together the sugar, flour, cocoa, baking powder, baking soda and salt. Add the eggs, milk, oil and vanilla, mix for 2 minutes on medium speed of mixer. Stir in the boiling water last. Batter will be thin. Pour evenly into the prepared pans.
Bake 30 to 35 minutes in the preheated oven, until the cake tests done with a toothpick. Cool in the pans for 10 minutes, then remove to a wire rack to cool completely.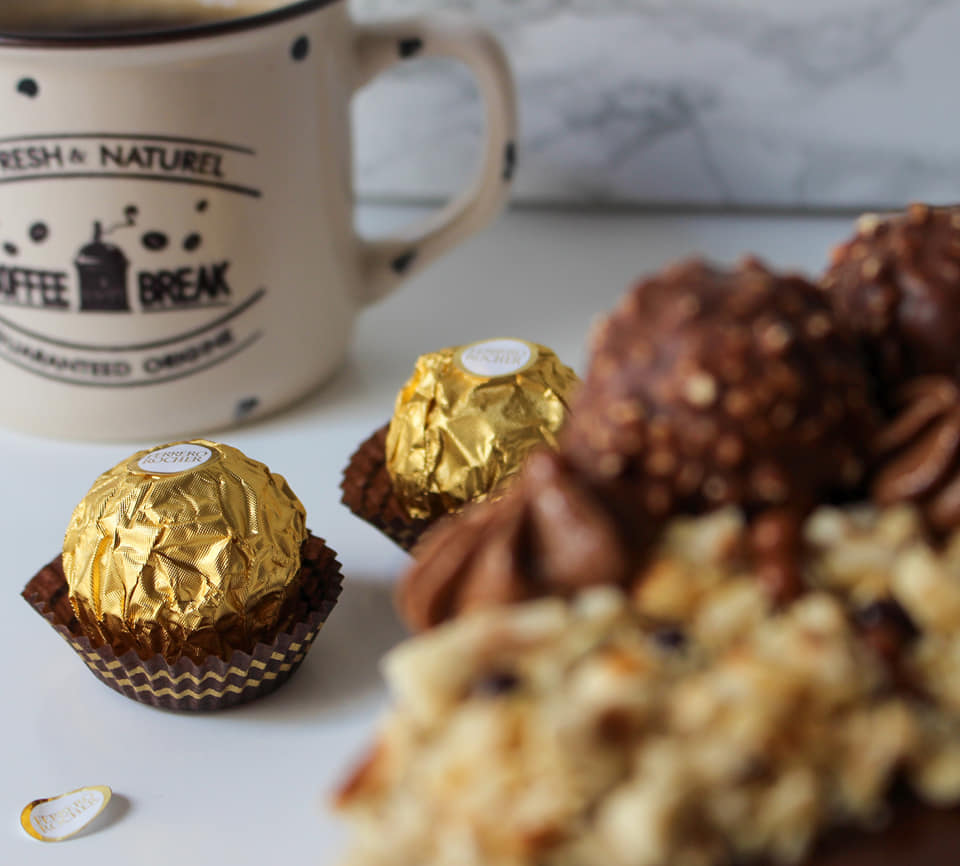 Now that we have the cake and the chocolate filling or mousse ready all that we need to do is to decorate and this is entirely up to you.
For me, I have melted chocolate on top with Ferrero Rocher chocolate and hazelnut.
I hope you like it! 
Tell me what you think on my instagram Account https://www.instagram.com/jennysweethands" target="_blank">@jennysweethands
/